Standard signal consists of the following parts: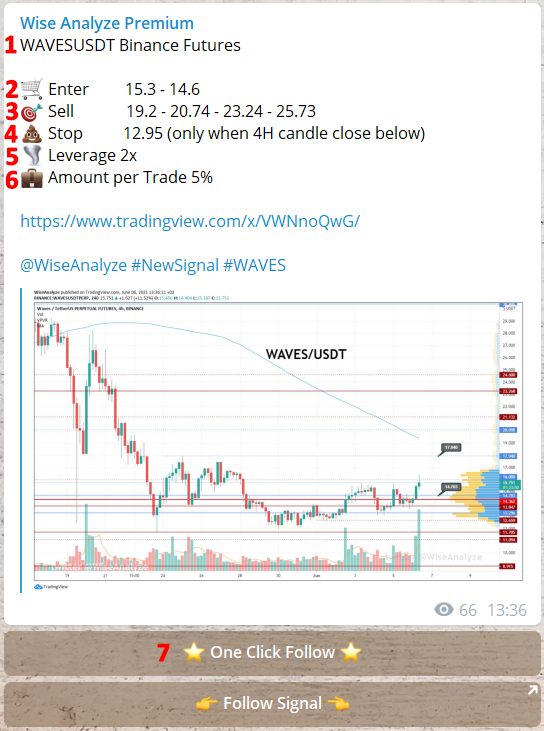 1) ⚖️ Trading pair. We trade BTC pairs at Binance spot and USDT pairs at Binance Futures
2) 🛒 "Enter" stands for recommended entry price. If there are two values split your full position size between them. In trending market emphasize more on first entry. In ranged market leave more for the second entry.
🚀 Sometimes we post "Enter above" or "Enter below" signals. These are breakout signals and they become valid only after price cross given value. No cross, no trade. For long signals stop loss should be place below breakout candle tail. Please note that these signals posses extra risk to get into bull/bear trap, so if you trade manually it makes sense to wait for breakout candle to close before entering. Although in this case you might miss entry at all. No universal advise here.


3) 🎯 "Sell" represents targets. For spot and long signals targets are higher. For short signals targets are lower than enter prices. Its up to you where to take profit and in what proportions. But since crypto is very volatile we recommend to fix profits by parts. Keep in mind that nearest targets have highest chances to be hit while last targets often require longer time and have smaller success rate.
4) 💩 "Stop" is your Stop Loss (SL) price. Cornix bot trigger SL once the price is hit. But for manual traders we recommend to wait for 4H candle close before closing position. For long trades, if price pierced through SL level with long wick, but then returned back and closed above it, it often leads to bounce and continuation in originally planned direction. This strategy often allows to avoid scam wicks. Most often even if price dump below SL it comes back to re-test that level on the next swing. So if you haven't sold there average cost at the next support level and sell in profit at what previously was SL.
5) 🌪 Leverage – used for Futures calls only. We calculate leverage that way so that your loss would not exceed 13-20% from position. Considering that we dedicate only 5% of overall trade amount to each trade it takes 5-6 consequence lost trades to really hit the balance. This is why we usually have only 3-4 Futures trades open at the same time – for risk management measures.
6) 💼 Amount per Trade 5% – this is default value for all trades. You may use more but only if you decrease amount of simultaneously open trades. For 10% per trade, we recommend to have maximum 2 Futures trades open. Or only one trade if you use 20% of balance.
7)⭐️ One Click Follow ⭐️ & 👉 Follow Signal 👈 buttons are generated by Cornix bot. If you have Intermediate plan with auto-trading turned on there is no need to push these buttons as Cornix pick up every signal automatically.
Some signals have free text form without Cornix buttons. I post these for manual trades only in cases where I feel trade setup require your special attention and decision making. Or if entries are targeting those SL hunting wicks and therefore setting stop loss in advance makes no sense. Always use dollar cost average "ladder" of limit orders and let the price bounce (find local support/bottom) before setting stop loss. Dip buys give the best entry price, but doesn't really work well with Cornix mechanics.
Cornix bot: settings, bugs, well known problems
First of all, Cornix has perfectly arranged official tutorial page that will answer most of your questions. How to set it up, settings and etc. This guide is about those uncertain moments I've been asked most often myself.